This is my two cents worth on the teleserye that is Endless Love: Autumn in My Heart. This Korean TV series is recently adopted by Pinoys. Though I love Song Hye Kyo, the female lead in the Korean version [I can't say the same for Marian Rivera of the Pinoy version], I still think its story line is quite twisted. I haven't really entirely watched any one episode of the Korean series and the Pinoy version is still running to date, but allow me to voice out my thoughts and raise a lot of questions.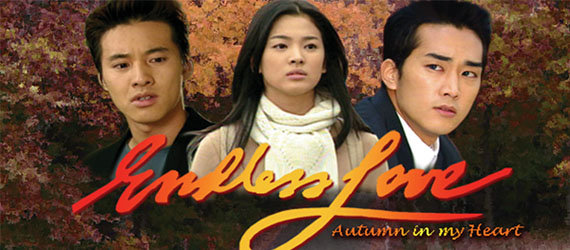 From what I know, the two protagonists [Marian Rivera and Dingdong Dantes] grew up thinking they were siblings. They were really close, but for the cruel reason that they weren't really siblings, they had to be separated from each other. Dantes' family, including the real daughter [Nadine Samonte], migrated to the US and left Rivera with her real mother [Janice de Belen] in their hometown. When Dantes came home, he finds his "used-to-be-sister" and from there, their tragic love story begins.
Is it just me thinking that their love is already bordering to incest? There were actually some parts in the story wherein the brother, during the stage when they thought they were siblings, showed love to his sister in a different level. Can we consider that incest?
Yes, I understand that they aren't really related by blood, but doesn't the fact that they grew up as siblings kind of forbid that love? Is it possible in real life for brotherly or sisterly love to naturally develop into something romantic? or is it a deliberate act to develop such love into a whole new different level?
I know it's fiction, but what if life screws you that way for real? I mean, that's possible, right? What if life tells you in a cruel fashion that the person destined to you is your former brother or sister? Would you pursue such love?
My position on this, at first, was that they should not have let their relationship grow further and deeper. However, I thought, should I let others' expectations hinder me from loving the person destined to be a part of my life? Sigh. I don't know anymore. Hehe!
live.love.learn.LOL
Happid3zz